Tour Greens is part of The Recreational Group, a family-owned family of companies, dedicated to the design, manufacturing and installation of premier recreational surfacing solutions. Having access to these company's innovative products and highly-trained design and installation professionals allows us to truly Bring Space Alive.
---
Our Founding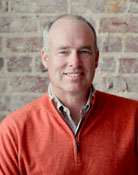 When Steve White finished his collegiate golf career at Clemson University and elevated his practice routine in hopes of making the PGA tour, he never thought he would end up in the synthetic grass business - much less building Tour Greens, the nation's leading designer and builder of Tour-quality commercial and backyard putting greens. But after 25 years, that is just what he has done.
Steve grew up in Dalton, Georgia, the carpet capital of the USA. As a kid, he was introduced to the family business, a manufacturer of synthetic grass systems designed for lawn and sport applications. After he graduated, he was looking for a way to practice his short game at home…on greens that performed just like the those on Tour…and at virtually any time or in any weather.
He dedicated himself to designing and building the world's best synthetic grass putting greens and founded The Putting Green Company when other golfers in the area started asking him to build greens in their backyards.
Around the same time, former PGA Tour Champion Kenny Knox had started his own putting green business named Tour Greens. Known for his superior putting ability, Knox had used his expertise in putting and construction to design backyard putting greens for many current and former PGA professionals.
Eventually, Steve took all of this knowledge and experience and with the help of a new business partner, bought Tour Greens from Knox and combined it with his company to create what is Tour Greens today.
Tour Greens Today
As Tour Greens celebrates 25 years, it has evolved into a company that is redefining backyard luxury, leisure and training.
Staying true to its heritage, Tour Greens remains committed to providing tour-quality, synthetic grass putting greens in which one can practice their entire short game. The company works with golfers at all levels, and has completed short game practice facilities at the homes of current PGA professionals Brendan Todd and Abraham Ancer.
Its extensive investments in every critical element of the manufacturing process along with its commitment to design have made it the choice of the Pros like Craig Stadler, Duffy Waldorf, D.A. Weibring, Gary Hallberg, Grant Waite, as well as NBC golf analyst and U.S. and British Open champion, Johnny Miller.
Throughout its journey, Tour Greens realized that even those not playing on or aspiring to be on the tour, appreciate the performance, appearance and fun associated with their backyard putting greens.
From the executive looking for a quiet place to unwind after a long day at the office to busy parents wanting a fun and engaging place to play with their kids, the demand for backyard putting greens is strong as ever.
"Today's greens come in all shapes and sizes. Whether we are re-creating the 12th at Augusta or building a green in the shape of a tooth, most of our projects feature multiple turf cuts, bunkers and tee boxes built for practicing virtually every shot one can imagine."

Steve White - Founder