With a company mission of creating "Putting Greens that that look, feel and react like those on the tour," Tour Greens and its sister companies XGrass and Synthetic Grass Pros were incredibly honored to have been chosen by the PGA of America to outfit multiple areas of its new headquarters in Frisco, Texas.
---
The Project
PGA Frisco features two championship golf courses, a 10-hole short course called The Swing and a 75,000 square foot putting green named The Dance Floor. However, it's the indoor education center where PGA personnel can now train, certify and develop the nearly 28,000 PGA members who work across the country that wasn't possible at the organization's previous facility in south Florida.
The nearly 107,000 square foot building will feature an indoor short game green and putting lab installed by Tour Greens as well as XGrass Tee Line turf for its simulator room and "hitting locations."
---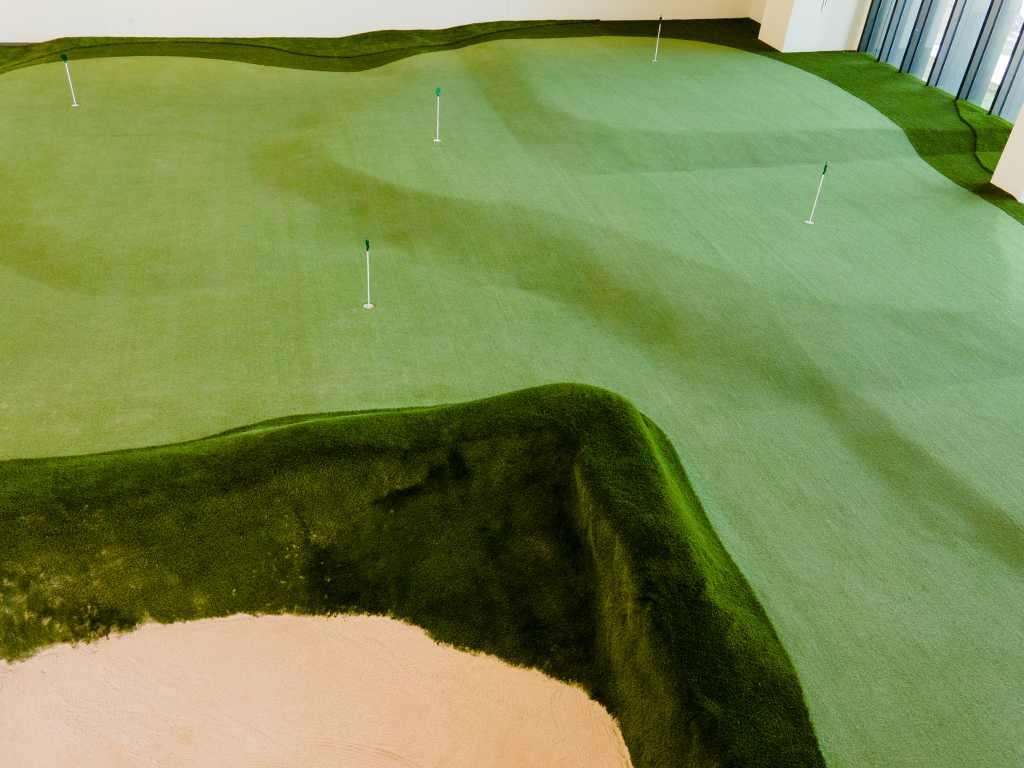 "Short Game" Green
For the 3,000 square foot short game green, Tour Greens' designers took the PGA's design concept and worked with the landscape architecture firm, Ragan and Smith to bring it to life.
Using hot wires and belt sanders on foam panels, the Tour Greens team gave the green its shape – getting every contour and undulation approved by PGA professionals along the way.
---
It (allows us) to teach the associates and professionals about short game chipping and pitching and all the scoring clubs that take place that we've never had an opportunity to do before…It's going to offer us some things that we just couldn't do outside.

Dawes Marlatt, Senior Director of Education/Talent Development for the PGA of America
---
Multiple Turf Surfaces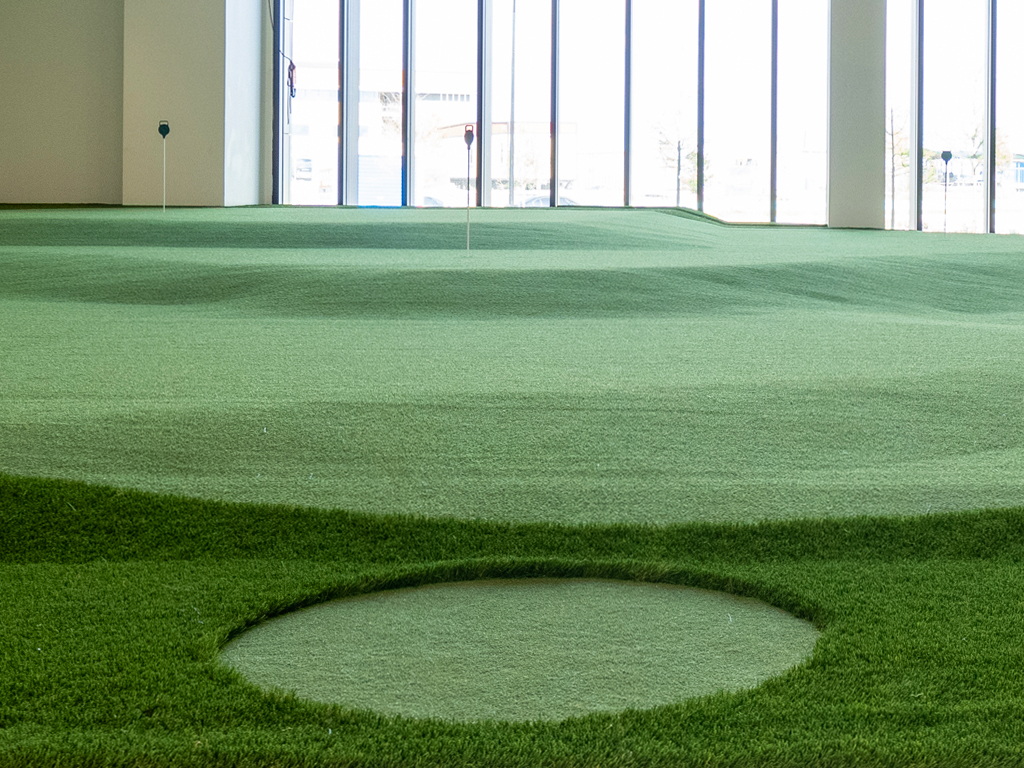 Once the base was set, multiple turf surfaces were applied. The putting surface was built using XGrass Short Game Elite turf with a 5mm SofStep pad and 5.5 pounds per square foot of Nylon RQS infill and top dressing. It was then outlined with Dynamic Pro Plus turf for the fringe, Luxury Premier Rough Cut for the rough, and a number of hitting circles made from XGrass Ultimate Tee turf.
All of these elements combined to achieve the playability of the putting surface that reacts like a natural-sodded and top dressed green - accepting everything from bunker shots and flops to basic chips and pitches.
---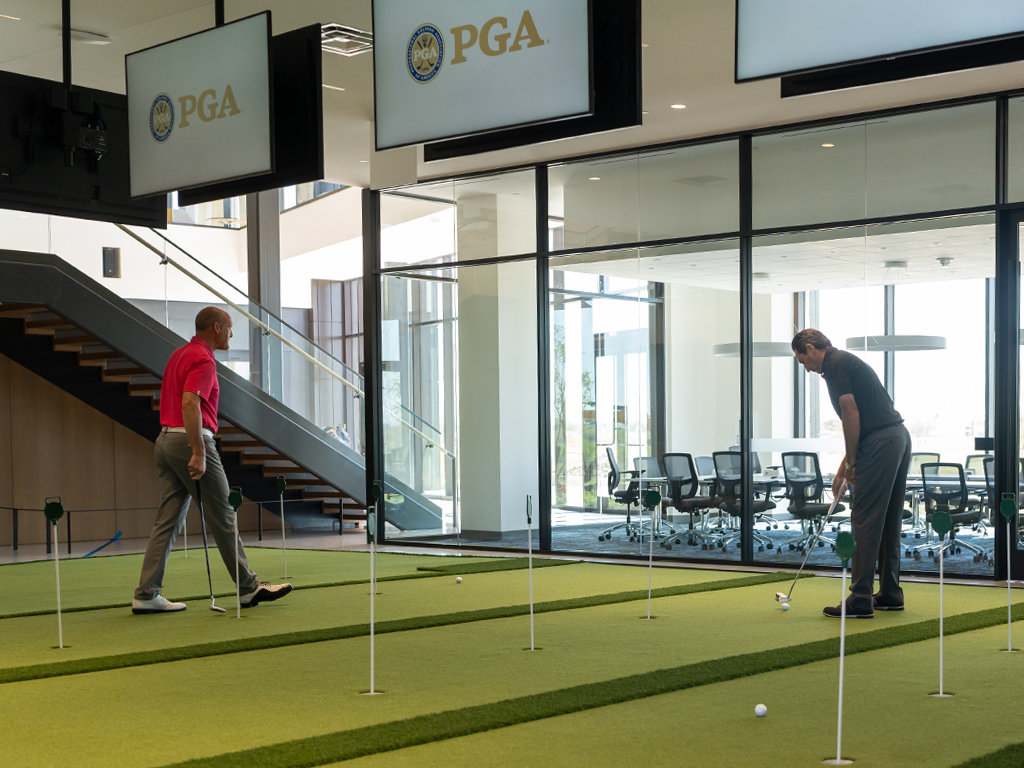 The "Putting Lab"
The team then moved on to assist with the design and construction of the raised putting practice platform (nicknamed The Putting Lab) and an open putting area. The "lab" will be used by teachers to measure the speed and straightness of the player's putts while the Open Putting Area will provide students with a green for practicing short putts and reading greens. The Tour Greens design team specified its proven XGrass Ready Putt turf and Luxury First Cut fringe for these areas.
---
Hitting Locations
Finally, for the simulator room and "Hitting Locations," Tour Greens installed XGrass Ultimate Tee turf. Featuring the same quality as the industry leading Country Club Elite golf mats from Real Feel Golf Mats, this turf features a superior nylon fiber that ensures longevity, performance, and the reduction of the annoying green residue left on clubs by polypropylene or polyethylene fibers with higher melt point.
---
We are extremely proud that so many divisions of The Recreational Group were able to play such an integral role in this project. The success of this project is a testament to the commitment to both the golf industry and our desire to design, manufacture, and install the best synthetic grass products on the market.

Will Lambert, Senior VP of Turf