Tour Greens Outdoor Putting Greens are designed for putting and chipping practice, simulating the look, feel and performance of real bent grass greens. Outdoor Putting Green systems can be designed with customized green speeds, breaks and undulations, as well as different cuts of fringe and rough to create the ideal putting green for your practice needs.
---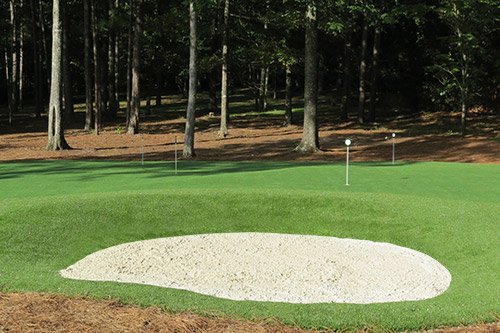 The Outdoor Putting Green System
Tour Greens' Outdoor Putting Greens are similar to our Tour Greens Short Game Greens, but are utilized in areas where space does not accommodate inbound wedge and iron shots, or the application does not require it.
Tour Greens Outdoor Putting Greens:
Receive shots from less than 30 yards
Provide a smooth, consistent putting surface with true ball roll
Customizable surface speeds
Require virtually no maintenance
---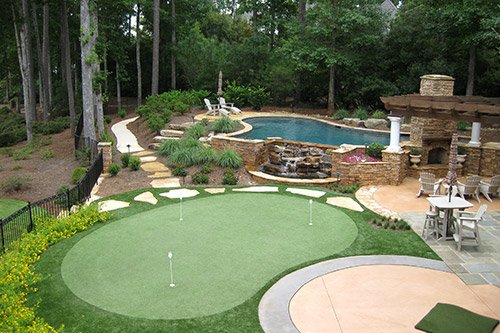 True Ball Roll and Customizable Green Speeds
Each putting surface is designed to look and feel like a healthy, well-maintained bent grass green. Balls roll true and consistent throughout the green, and well struck chip shots will check up. The putting surface can also be customized to match your preferred speed, whether you want to match your home course or the lightning fast greens played on the Tour.
---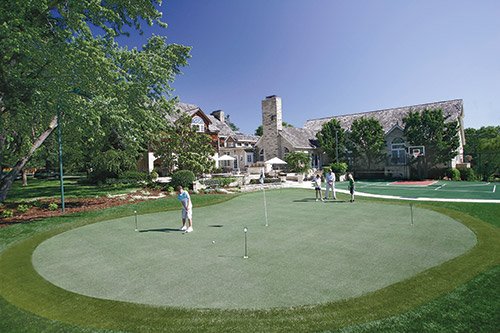 Virtually Maintenance Free
Tour Greens Outdoor Putting Greens require no daily maintenance. Just use a broom or leaf blower to keep the surface clear from debris and/or seedlings as needed.
---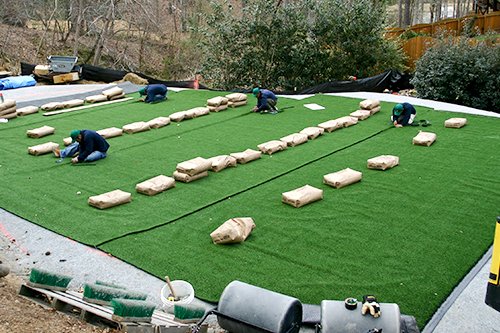 Professional Installation
The Tour Greens in-house installation team and our certified dealers have extensive experience with Tour Greens advanced turf systems. With Tour Greens Total Service, you can rest easy that your Outdoor Putting Green will perform at optimal levels for years to come.
---
Two Base Options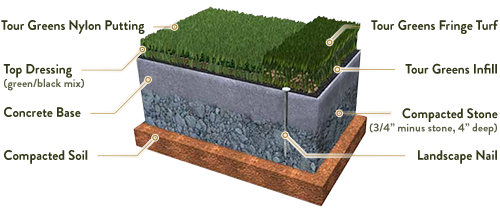 Nylon Putting Green Over Compacted Stone
Similar to the Tour Greens Short Game Green system, as it employs the same multi-layer base, the Tour Greens Outdoor Putting Green utilizes a dense nylon turf instead of the polypropylene blend, and requires only half as much infill.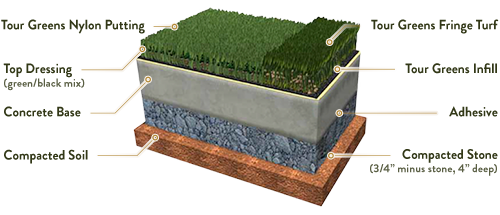 Nylon Putting Green Over Concrete
Tour Greens Outdoor Putting Greens can also be affixed to a concrete base using an adhesive. Green and black top dressing is added to enhance natural look and putting green performance.