Why are Tour Greens Practice Greens Superior to the Competition?
Tour Greens uses revolutionary synthetic turf products designed specifically for golf, and we have designed a unique "Practice Green" system that truly mimics the look, feel and performance of tour-quality, natural bent grass greens.

Multi-Layer Base
The base layer of a Tour Greens Practice Green is typically existing or newly shaped soil. It is in this layer that we introduce contours and undulations for uphill, downhill, and breaking putts. The Geotextile fabric provides an extra layer of stability and integrity when sculpting the compacted sub-grade.
Two-Layer Aggregate Base
After the base layer is constructed, a two-layer, compacted aggregate base is built to provide stable support and allow water to drain quickly and effectively.
Synthetic Turf Designed Specifically for Putting Greens
The synthetic turf used to create short game greens is manufactured from fibers specifically designed to simulate the softness, texture, density, and color of natural bent grass. Our precise specifications achieve optimum pile height and density, creating a putting surface that is truly realistic and performs just like a natural bent grass putting green.
The turf used by many of our competitors is made from common "off-the-shelf" synthetic fibers designed for action sports like football, soccer, or tennis, not for golf.
---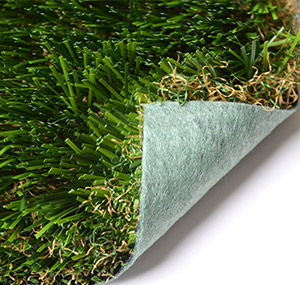 All-Purpose Backing
The all-purpose urethane backing system is 50% more permeable than perforated urethane backed products, which provides superior drainage and eliminates puddling on the green.
---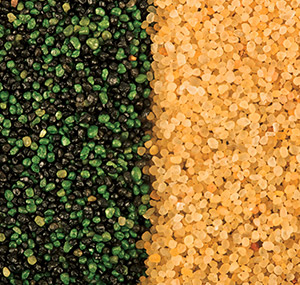 Unique Infill System, RQS Infill System
The Tour Greens system integrates unique infill sand into the fibers of the turf to create a natural feel and softness in the putting surface. Other competitors use locally available, angular sand as an infill, which causes the putting surface to compact and harden over time.
RQS is made from a specially formulated blend of cleaned and size-graded round quartz designed to keep the putting surface consistent and receptive for the life of the green. RQS is shipped from our facilities, or from one of only two mines in the U.S. where it is naturally available.
The infill system also incorporates our Colored Top Dressing, a specially formulated blend of black and green acrylic-coated quartz. This layer gives the green a deep rich luster, which provides the well-manicured, tour-quality look.